Dehradun the provisional capital of Uttarakhand state is nestled between the Himalayan foothills to the north and the Shivalik range to the South. Dehradun is very well popular tourist place, everyone wants to come here once in his/her life. For outsiders, Dehradun is like a heaven, because Dehradun is a land where nature resides.
Dehradun is a wonderful place for lovers, the scenic beauty of Dehradun spreads romance in its air. The best way to enjoy the beauty of this town is to walk with your near, dear & loved ones.
Lovers want a calm and beautiful place where they can talk and spend time together and Dehradun is the city which is having many places like this. Not only for lovers, but Dehradun is also the best place for families also to their weekends. Here are many parks and gardens that gives a feel of heaven.
Here we are providing a list of those places which will help you to find the best one for you.
MDDA Park, Rajpur

The MDDA Park also known as Rajpur Park which is located at Raipur Raod, Dehradun Uttarakhand. The Park is well maintained with trails and the various benches to enjoy the beautiful Mountain view. The Mountain View is really refreshing and looks best in Monsoon season with the river flowing. It is a good place to visit with your family and with your Lovers, there are fountains at the sideline of the park which looks great in sunset time, there is a small canteen where you can have snacks and cold drinks.
Dehradun Zoo (Malsi Deer Park), Dehradun – Mussoorie Road

Dehradun Zoo earlier known as Malsi Deer Park is one of the most famous Lover's Point in Dehradun. It is approximately 10 km from Dehradun, it is located on the way to Mussoorie, and the well popular for lovers. Dehradun Zoo is a beautifully developed mini-zoological park that lies at the foothills of the Shivalik range. Apart from lovers, it is a park for children and surrounded by beautiful landscape. The main attraction of Dehradun Zoo is a wide variety of animal species, reptiles & fishes kept here.
Buddha Temple, Clement Town

Buddha Temple is one of such places in Dehradun that visited by hundreds of people every day and also famous for Lovers. It is an important landmark of Dehradun is famed for its impressive architecture, beautiful interiors, decorations, and appealing surroundings. The wall paintings in Buddha Temple illustrating the life events of Lord Buddha are simply incomparable. Another great attraction within the Temple complex is the great statue of Buddha. The beautiful garden of the temple features a wide variety of beautiful flowers. The shops and temple garden are open for the general public seven days and the main interior of the temple is only open on Sunday. Most of the people and couples come here to Buddha Temple to enjoy their weekend.
Maggi Points, Dehradun – Mussoorie Road

Maggi Points are famous for its spicy Maggi, and it is also famous for lovers. Most of the people say Maggi Point as a Lover's Point. Maggi Points are located on Dehradun-Mussoorie Road. There are many roadside shops, which serves Hot & Spicy Maggi Noodles and this is the reason they are called Maggi Points. If you are looking for a gateway from the madness of the city then this is the perfect place. When a couple goes to Mussoorie or returns from Mussoorie they spend their time at Maggi Points and hang out with their Lovers. So basically Maggi Points are the most famous Lovers' points in Dehradun City.
Goa Beach, Rishikesh
Goa Beach is one of the famous Lovers Point it is situated in Holy City of Hindus Rishikesh in the foothills of the Himalaya in northern India. Goa Beach nickname given to a place on the river Ganga's bank, it is often referred to as Goa Beach by foreign backpackers.  The view of this place is awesome, you must go there if you haven't seen it. Namaste Dehradun-The free Encyclopedia of Dehradun, advice to all the Lovers not to go to this place when the flow of the river Ganga is high.
Mussoorie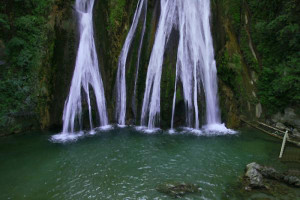 Mussoorie is located at a distance of 40 km from Dehradun City, It is the favourite place of lovers, newly married couples and also those families who want to go to a place where natural beauty meets with calm surroundings. Mussoorie is surrounded by ice-capped mountain peaks and thick lush green dense vegetation. Mussoorie is a place, having a feel of love in its air which makes you fall in love. In Mussoorie, there are many places to visit, like JhariPani, Kempty Falls, Lal Tibba, Company Garden, Dhanaulti etc.
Clouds End, Mussoorie

As the name reflects, Clouds End is a place which is always covered with clouds. Located at a distance about 6 km from the Library Chowk Mussoorie. Most of the couples and lovers visit this place can witness beautiful views and pleasant atmosphere. It is covered with thick and dense forests. This stretch promises all the couples to feel a wonderful refreshing walk, with the vast spread of flora and fauna all around. When you walk with your lover it is sure you will feel that you walk in heaven. Cloud End is the most romantic place in Dehradun city and people loves to visit this place.
Share your experience in comments and tell the name of the place which also deserves to be in the above list.
Share your opinion!